About the theatre
"The Little Witch Theatre" is non profit organization working in social, educational and cultural areas. It is professional theatre for children. The theatre has the biggest repertoire for children in Lithuania. The theatre seeks to show professional, high quality and various genres performances for children. The institution keeps open connection between its audience, gives an opportunity to talk to personages of tales and to turn reality to a miracle.
During the years 2010 and 2011, the theatre presented to the audience more than 20 performances in its repertoire. Each year the theatre presents from three to two premieres. Theatre performances are built after the most advanced with their ideas world-class writers: Carlo Collodi, Charles Perrault, Oscar Wilde, Astrid Lindgren, Jostein Gaarder.
Each week the "The Little Witch Theatre" presents 3-5 plays which visit from 450 to 680 spectators. During the month, our spectacles visit from 8 to 10 educational institutions in Vilnius. Over the year, the theatre shows more than 20 performances in major Lithuanian cities, which, in average, visit 3000 spectators. Every three years, social project for the whole family "Flying Bears" is organized, which at one time watch more than 5000 spectators.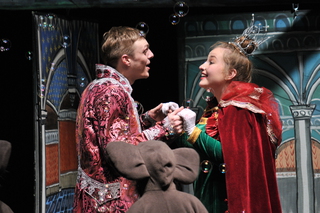 "The Little Witch Theatre" took part in festivals: Velikiy Novgorod Festival "Morozko", Klaipeda International Youth Festival "Ice Tomtits", Copenhagen festival "H. Q. Andersen for Children", International Youth Festival "Assitej" in Latvia, an international independent children's theater festival in Tallinn, "Salon". The first after independence, the theatre took part in "Assitej" Festival in Poland.